I've been thinking about where to go with the cover for Shards of Tomorrow... and I was flipping through my old Star Frontiers RPG to glean some ideas... and I came across the MOST AWESOME drawing ever by Timothy Truman. He is such a fantastic artist, although I have never tried to mimic his style with washes and tones. However, this drawing is so incredible, and it's so perfectly retro-amazing. Here's his original drawing...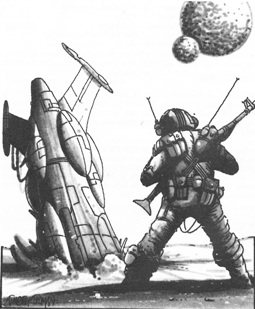 And here's my version of it...
And here's the working cover design (I moved the moons down to make room for the title)...